5/28 Update Description
5/28/2020 6:24:24 AM
Hello Golfers! This is the Shot Online Golf World Championship team.

Here is the info regarding the update of May 28.
Check below for more information.

1. Improved tutorial
- Script in Academy chapter 1-1 has been changed.
- The rewards that were previously given in chapter 1-5 can now be received in chapter 1-1 as a completion reward.
- Betting Challenge and 3-Hole Match can now be unlocked after completing chapter 1-1. Tutorials in chapters 1-2 up to 1-5 has been removed.
- The Betting Challenge tutorial only appears before clearing chapter 1-6 if the player never tried the Betting Challenge mode.
- The Club Upgrade tutorial appears after losing for the first time in the Betting Challenge. However, for players that upgrade their clubs before losing will not have to go through the tutorial.

2. Improved UI Menu
- The UI has been improved to allow users to view all menus at once.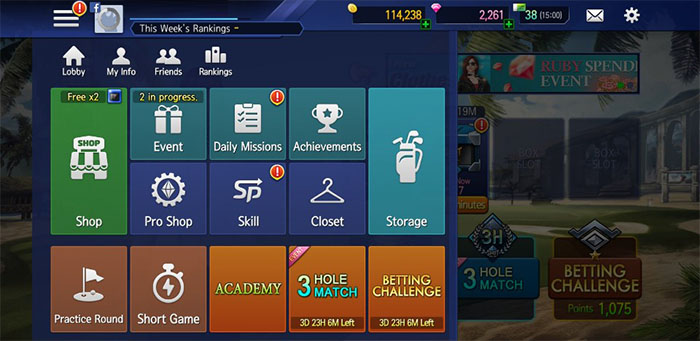 3. New events and products for sale in June

4. Reset for Ruby/Gold First Purchase Bonus
- Those who have already purchased Ruby/Gold previously will be able to receive the First Purchase Bonus again.

5. Server stabilization

We would like to thank all of our players for playing shot online and we will continue to try our best to provide a better gaming experience.

Thank you.